'76 CIC & '65 FLH
---
In Memory of Dana Johnson
DRIVE FAST, TAKE CHANCES... AND SPEED UP IN CURVES!
---
CIC
1976 Sportster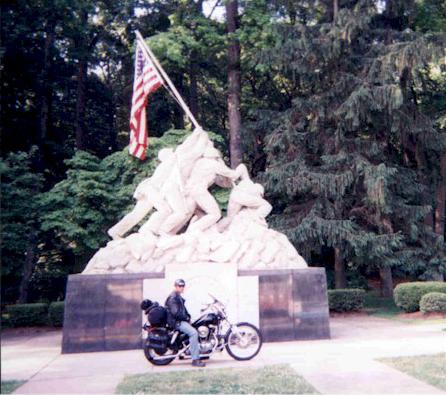 '76 XLH motor with S&S rods and bearings and balanced rod and wheel assembly , HD exhaust valves, manley intake valves, manley guides and springs, wiesco .020 over 10:1 forged aluminum pistons and rings, sifton lifters and lifter blocks, andrews-Y cams(with a kick), barnett heavy-duty kevlar clutch, mikuni 40mm smoothbore carburetor, Crane HI-4 single-fire ignition, crane single-fire coil, 21, 22, 23 or 24 tooth front and 47 or 48 rear tooth sprocket (depending on what's happening at the time) , electric & kickstart, 2" dragpipes(sometimes with and sometimes without baffles), lockhart thermostat controlled oil cooler, fabricated forward controls, 3.2 gallon 1 piece sport bob gas tank with FL dash & custom made speedo faceplate, drag bars, DS tach, pingel kill switch, steering dampner, sport bob rear fender with hidden struts, '63 Servi-car front fender, 0-60lb. airshocks, solo drag seat, front and rear rear disc brake, cast rear 16" wheel with a 130/80 barracuda or a 130/90 dunlop(depending on what's happening at the time), 21" stainless spoked front wheel with an 100/90 avon. Ridden from 1985 until 1999 for a total of 210,000 miles. Now she gets alot more rest but is wound a lot tighter when woke up.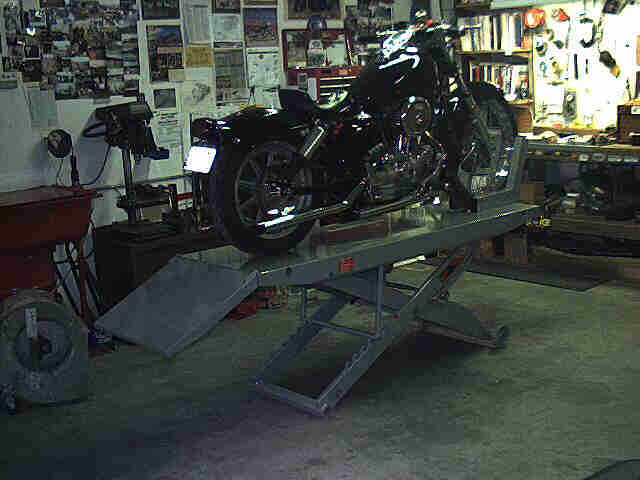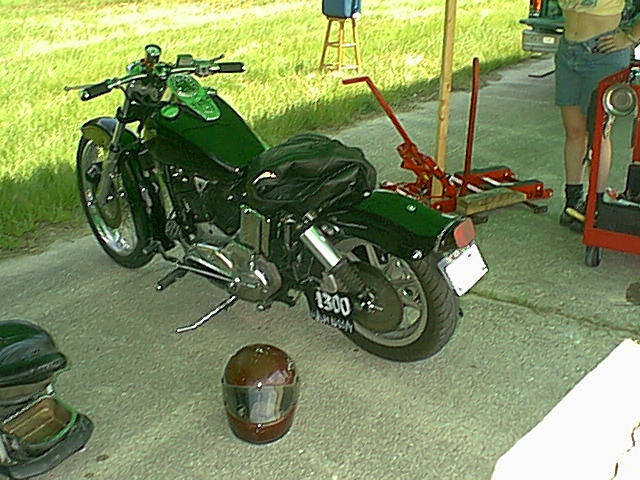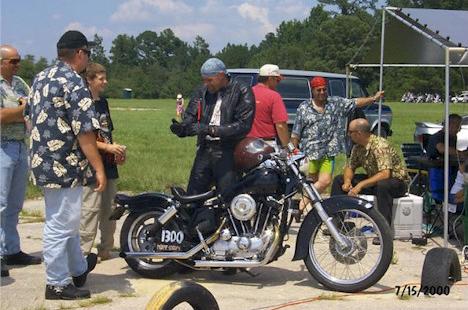 ---
---
Old Blue
1965 Panhead
(this is no bowling bowl , golf cart or girls panties I'll have you know)
When bikes were bikes, and not just a product for a company to sell their name on...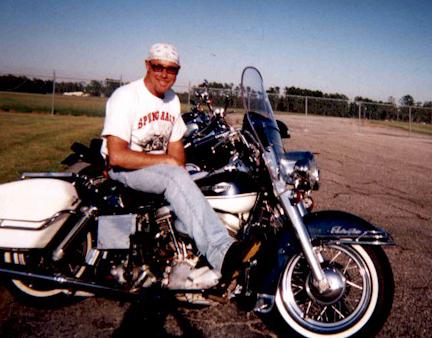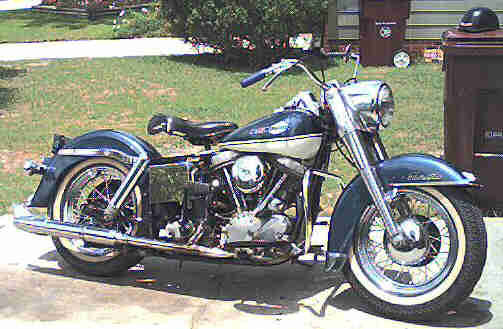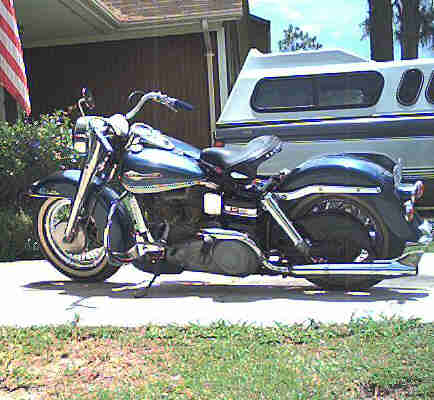 Lay back and spread 'em wide... this ain't no sportster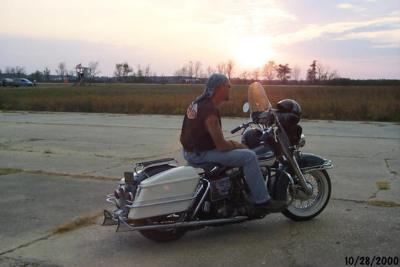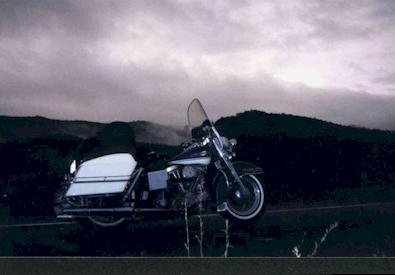 CLICK HERE FOR MORE PICS ON THE PANHEAD PAGE
---
COMING EVENTUALLY
IndianJer bringing his '51 Chief back to life
This ain't one of them (ahem!) fake look alikes either, it's the real McCoy...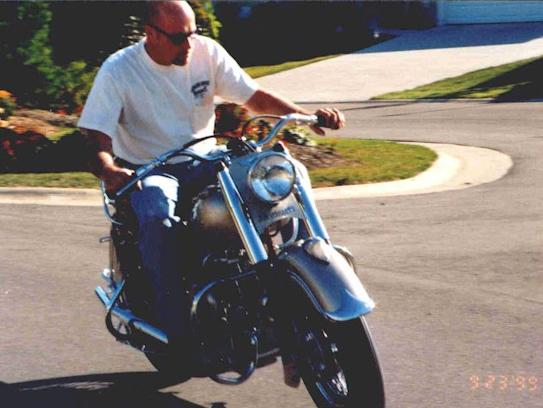 And for all you Indian lovers with the unending Harley jokes...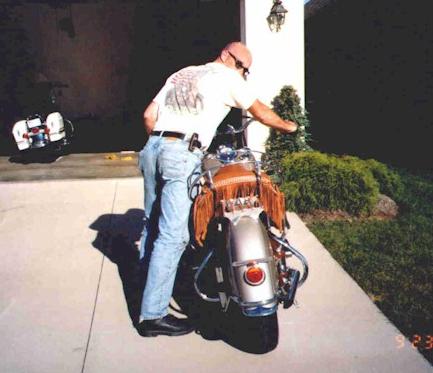 You won't find any pics of Harley's getting pushed anywhere on these pages.
---
My place for now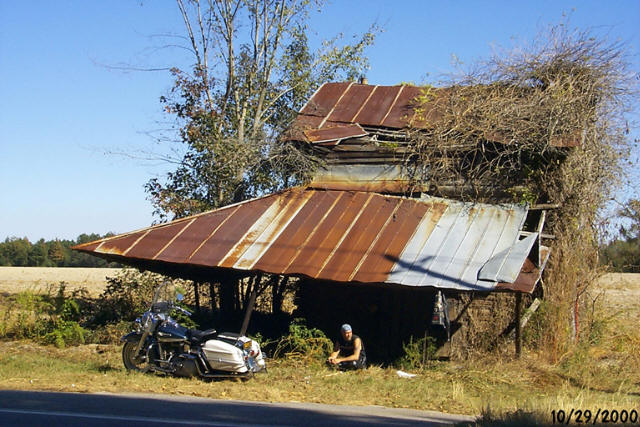 This is all I can afford for a place to live since I opened my own Harley Parts & Service shop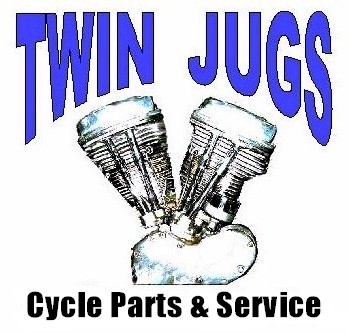 ---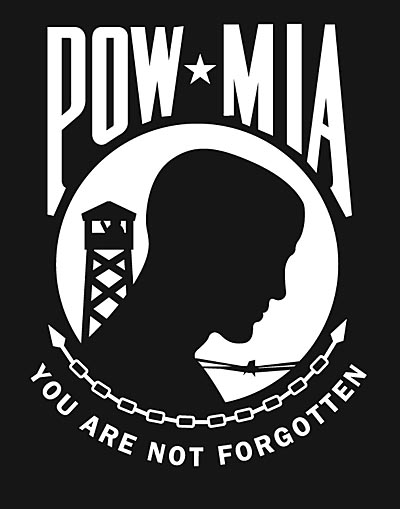 FOR THOSE THAT HAVE FOUGHT FOR IT..... FREEDOM HAS A FLAVOR THE PROTECTED WILL NEVER KNOW:
---
Panhead Sites:
Indian Sites:
Going Scooter Rates:

Used Bike Price Guide
Good Sites:
Dahmurf's M/C Zone
Biker Heaven
Home of the Sportster!
Cycle Trader Online
Evil Knievel
DILLIGAF
Helmet Laws in the 50 States
Over 3000 other Bike sites
Full Throttle Magazine, NC
Other Homepages:
---
Good place to search for other bike sites:

E-Mail Todd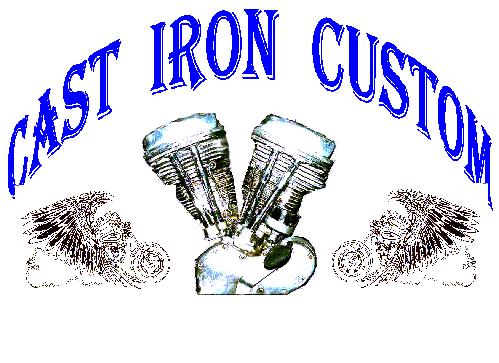 You are guest #



.....like anyone really cares.